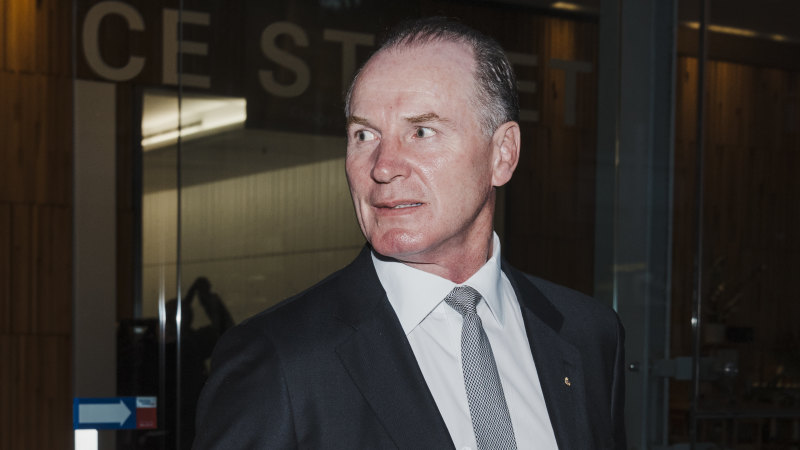 The AAT decision was handed down late last year but had been kept confidential to give Mr Poidevin and his co-accused time to challenge the ruling.
Mr Poidevin and Mr Rodr had told the AAT that they had allegedly come under pressure from the head of Bell Potter's institutional arm in Hong Kong, Dan Kirton, to keep the share price of the company — DirectMoney — at a certain level by pushing through trades.
However, AAT president and Federal Court judge David Thomas said there were serious issues with this evidence.
"This aspect of Mr Poidevin's evidence and the fact that neither Mr Rodr nor Mr Poidevin apparently discussed the undue pressure being brought to bear by Mr Kirton is unexplained, implausible and casts serious doubt on the evidence of both Mr Poidevin and Mr Rodr that they were concerned about Mr Kirton's conduct."
Justice Thomas delivered further hits to the credibility of Mr Poidevin in the ruling, declaring: "Mr Poidevin's evidence in cross-examination is not convincing."
"On the one hand, Mr Poidevin's evidence in his examination and during the hearing was to the effect he was concerned to monitor Mr Rodr's trading and, in particular, the volume traded."
"On the other, Mr Poidevin's evidence in cross-examination was to the effect that it was a matter for Mr Rodr as an experienced DTR (designated trading representative) about staying within his volume restriction. There is an inherent contradiction in this."
However, Justice Thomas also found that some of ASIC's allegations against Mr Rodr and Mr Poidevin were not based on evidence. He said this included that ASIC's submissions that the DirectMoney capital raising had been a "filthy debacle" were overstated, and that Mr Poidevin needed to save his reputation was not established on the evidence. He also found there was no agreement between Mr Poidevin and Mr Kirton to manipulate DirectMoney shares. Justice Thomas also said the AAT was not satisfied ASIC had established that Mr Poidevin gave instructions to Mr Rodr to trade in DirectMoney shares to manipulate the price of those shares.
Mr Poidevin has previously said he dropped his legal fight for the sake of his family.
"With this investigation and appeal now entering its fifth year and given the stress and duress it has imposed on my life and family – whose support has been extraordinary – it was time to bring it to an end," Mr Poidevin said.
"I have moved on to the next phase of my career and will continue to contribute to society as I always have in philanthropy, volunteering, and supporting those in need," Mr Poidevin said.
Mr Rodr's legal representatives were contacted for comment. Both men no longer work at Bell Potter.
Sarah Danckert is a business reporter.