Many investors are now expecting an equity market correction of up to 10% by the end of the year — as caution over the bull market rally growth.
Deutsche Bank's latest survey of over 550 market professionals across the world, published this morning, has found that 58% expect a correction of between 5% and 10% by the end of 2021.
One in ten are bracing for a steeper selloff, while nearly a third think the markets will reach 2022 without a tumble.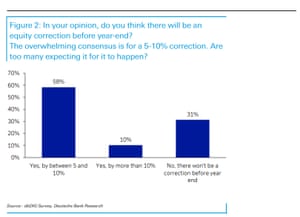 2021 has been a very strong year for the markets, with America's S&P 500 up over 18% since the start of January, and Europe Stoxx 600 gaining 17%. The UK's FTSE 100 has lagged, but is still up over 9%.
Central bank stimulus, government spending, and optimism that vaccines will spur…