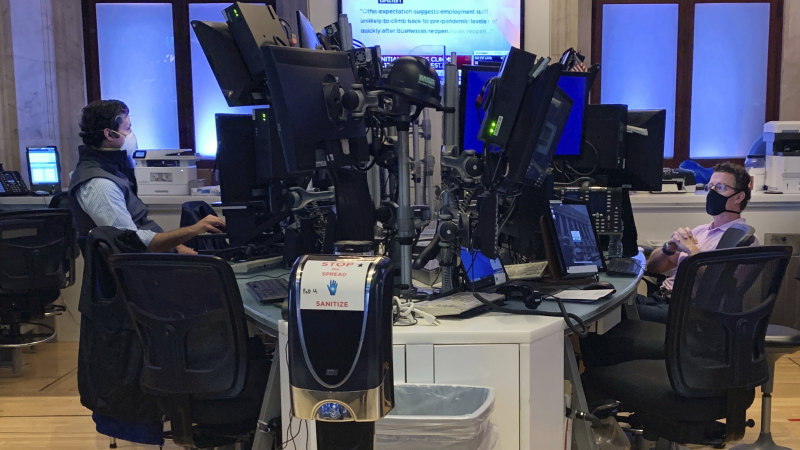 3. Aussie dollar: Safe haven currencies like the US dollar and Japanese yen fell overnight, and higher-risk currencies, including the Australian dollar, jumped, as risk appetite grew on optimism that the worst of the coronavirus downturn is in the past. One Australian dollar was buying 68.97 US cents at 7am AEST, up from 68.02 US cents at the close of trade on Tuesday.
4. Australian market looks to GDP data: Much of the attention in local sharetrading will be on economic growth figures for the March quarter, following the devastating impact of the pandemic. Economists predict the Australian Bureau of Statistics' estimate of gross domestic product (GDP) will be a loss of between 0.1 per cent and 0.5 per cent. A negative figure will almost certainly mean a recession, given the much deeper impact expected in the June quarter from travel bans and social distancing. The data is set to be released at 11.30am.
5. European gloom. Germany's economic downturn this year could be even sharper than previously expected, Economy Minister Peter Altmaier has warned. The government's latest forecast is for Europe's largest economy to shrink by 6.3 per cent in 2020, its biggest post-war slump, as the coronavirus pandemic has paralysed large swathes of the economy for months. But Altmaier told a business forum hosted by Bitkom, the industry association for the information technology sector: "I don't rule out that it could be more."
Neighbouring France on Tuesday revised down its forecast. Finance Minister Bruno Le Maire said he expected the French economy to contract by 11 per cent this year due to the coronavirus lockdown.
6. Oil on the rise. Oil prices climbed by more than $US1 a barrel on Tuesday on hopes that major crude producers will agree to extend output cuts during a video conference expected to be held this week and as countries and US states begin to reopen after coronavirus lockdowns. Brent crude settled at $US39.57 a barrel, rising $US1.25, or 3.3 per cent. US West Texas Intermediate crude (WTI) settled at $US36.81 a barrel, jumping $US1.37, or 3.9 per cent.
7. Gold slips amid bets on economic rebound: Gold retreated 1 per cent as investors booked profits and Wall Street advanced. Spot gold fell 0.8 per cent to $US1727.92 per ounce, giving up some gains from earlier in the session. US gold futures settled down 0.9 per cent at $US1734.
8. Market watch:
ASX futures up 31 points, or 0.5 per cent, to 5861 at 7am AEST
AUD +1.4% to 68.97 US cents
On Wall St: Dow +1.1% S&P 500 +0.8% Nasdaq +0.6%
In New York: BHP +3.2% Rio +1.6% Atlassian -2.5%
In Europe: Stoxx 50 +2.6% FTSE +0.9% CAC +2% DAX +3.8%
Spot gold -0.8% to $US1725.92 an ounce at 2.07pm New York time
Brent crude +3.3% to $US39.57 a barrel
US oil +3% to $US36.50 a barrel
Iron ore +0.9% to $US101.32 a tonne
Dalian iron ore -0.1% to 751 yuan
LME aluminium +1.1% to $US1554.50 a tonne
LME copper +0.6% to $US5519 a tonne
2-year yield: US 0.16% Australia 0.25%
5-year yield: US 0.32% Australia 0.38%
10-year yield: US 0.69% Australia 0.90% Germany -0.42%
US prices as of 4.56pm New York
This column was produced in commercial partnership between The Sydney Morning Herald, The Age and IG
Information is of a general nature only.
Wires